Movie editing is one of my favorite things to do, but the self-teaching method can be quite frustrating for an independent filmmaker. I've used Final Cut Pro for a few small personal projects, but underestimated the amount of work involved in editing HD footage to make a solid half hour short film.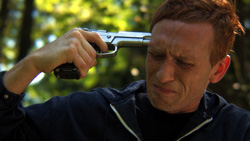 The problem isn't knowing what I want to do or how to do it. The problem is how buggy the various software programs are and how one wrong setting can set you into a lengthy investigation process to figure out what is wrong.
In the last week, we've probably spent a combined 20 hours troubleshooting various Sound Track Pro problems. Granted, we are both new to the software and are working off over sized files, but there's no doubt the program has issues. The good news is that our investigation skills are solid, and we've been able to overcome each hurdles thus far. Occasionally, I hope to share our findings to help other filmmakers avoid similar issues. God knows we could have used some clear answers online, but find very little support for Sound Track Pro.