Where the actual writing takes place for any given film probably varies greatly. I imagine coffee shops, home offices, and the livingroom are not uncommon. I'm curious where most screenwriters and filmmakers write. Perhaps if I share my writing locations & times for the Unseen Abilities film, others will share their experience.
After summing up the various places where writing occurred (whether it be in my head, on paper, or directly on the laptop), here's the breakdown: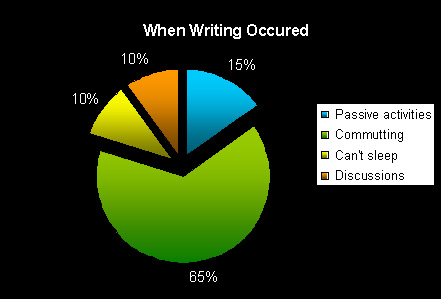 Before I further explain the breakdown, it might be helpful to know that I held both a full-time job and a part-time job while I was writing the screenplay. My time was also taken up by my wife and then 2-year old son, so it probably makes sense that my chart mostly reflects my only available free time.
My Breakdown explained:
10% Can't Sleep - my roommate in college couldn't stand me because he'd try to sleep around 9 or 10pm, then I'd show up around midnight and fall asleep before him, within minutes. Despite training myself to not think about anything when I go to bed so I can sleep immediately, there were certain times I couldn't help but think about the movie. When I caught myself doing so, especially if I had an idea I had to write down, I would jump out of bed and work on the movie until I grew tired.
10% Discussions - I often found myself bouncing ideas off people (mostly off one of my lead actors, my wife, my sister and co-workers). I also received new ideas (mostly from the same lead actor). The filtering of ideas and actually writing, however, always took place in a vacuum.
15% Passive Activites -  By passive activities, I mean taking a shower, driving the car, painting the deck, waiting in line or other fairly thoughtless activities that allowed my brain to work through the complex rubiks cube of piecing together situations, scenes, catalysts, conflicts, back stories, motives, subtext, locations, characters, twists, timing and all the other things that make writing a quality screenplay so difficult.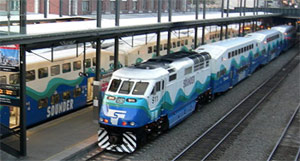 65% Commuting - This is one that is probably unique to me. The bulk of my writing took place on train rides from Everett to Seattle and back. I'd spend 1-2 hours each day reading screenwriting books, scripts of movies I was familiar with, or writing Unseen Abilities on my laptop. I did this for about a year. It was my first screenplay and the learning curve was steep (even for the formatting alone).
It seems only fitting that I ended up writing the very train I rode on each day into the movie. It was a surreal experience being on the outside of the train filming it go by, knowing that what I had written on that train was now being captured as an moving image that would later become the movie Unseen Abilities.
 If you're a filmmaker or screenwriter, I'd love to hear where you did your writing. Add your comments!